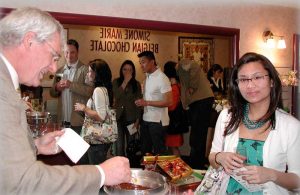 Our Chocolate and Wine (optional) tasting sessions are the perfect event to finish up a business team meeting or to celebrate a friend's birthday. All our sessions are organized on-site and are tailored to our clients' specific requirements for content, timing and duration.
Chocolate and wine tasting events are ideal to be included in an employee recognition day or a client appreciation night.
A typical 1 1/2 hour session includes:
a chocolate fondue (fruits and cookies)
"unlimited" tasting of pure Belgian chocolates and truffles
tasting of 3 different wines pairing the chocolates
An informative chocolate presentation, by Simone Marie, guides the participants through the MAGIC of chocolate and answer their most typical questions: WHY …? HOW …? WHAT IS Authentic Belgian Chocolate?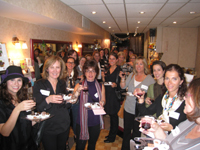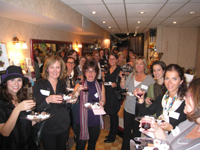 The cost for a session (held within the Greater Toronto Area) for 20 participants is $600.00 (+ taxes)
Advance booking required (minimum 4 weeks)
Call Simone Marie at 416-968-7777 to learn more or to get a quote for a larger number of participants or to organize a session in another city (Ontario only).